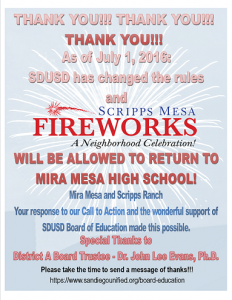 Thanks to the incredible show of support for Scripps Mesa Fireworks, the SDUSD Board of Education has modified their rules to allow Mira Mesa High School to remain the launch point for the 4th of July Fireworks Spectacular!!!
"Recently, some problems came up about the fireworks on school property. However, this year school board member John Lee Evans proposed a change to district policy that would allow the Scripps Mesa Fireworks 4th of July Fireworks to continue every year. The change in policy was unanimously approved by the Board of Education and has been implemented by district staff. This is another example of the schools and community working together under Vision 2020 for Quality Schools in Every Neighborhood. With community support, we will continue this great Fourth of July celebration." -Dr. John Lee Evans announcing the continued use of Mira Mesa High School by Scripps Mesa Fireworks
We thank the school board for their continued support, not only towards the education of our children, but for their support for the community. This could not have happened without everyone coming together. Special thanks are due to Dr. John Lee Evans, District A Board Member for helping make this come to fruition.
If you are interested in helping make the 2017 Show a success, we will soon make an announcement for our first 2017 Planning Meeting. Also, your financial support will also ensure that we will continue to provide the best fireworks show possible!
THANK YOU MIRA MESA AND SCRIPPS RANCH AND EVERYONE WHO HELPED MAKE THIS HAPPEN!!!